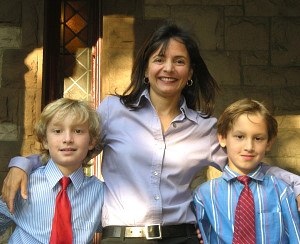 Sara Orozco is a Needham resident with twin eight-year old boys in the local public schools . Raised in Miami to Cuban-born parents, Sara is a first-generation American who came to Massachusetts thirteen years ago to pursue her dream of an academic appointment at Harvard Medical School.
With over two decades of experience in the health care field, she has proven ability to strategically plan, implement and monitor goals and outcomes for various non-profit organizations. Currently a licensed psychologist and certified business coach, Dr. Orozco runs a private practice in Needham and is the CEO and founder of her small business, Orozco and Associates, a leadership development and training firm. She is a member of the Newton-Needham Chamber of Commerce, the Boston Women's Networking Group, the Massachusetts Psychological Association and the American Psychological Association.
After leading her high school volleyball team to a state championship during her senior year , she was awarded a volleyball scholarship to attend the University of North Carolina, Asheville where she earned a Bachelor's degree. Dr. Orozco went on to receive both her Master's and Ph.D. degrees in psychology from Georgia State University. She did her Postdoctoral training at the Scripps Research Institute in La Jolla, California before coming to Massachusetts thirteen years ago to accept an academic appointment at Harvard Medical School and work at McLean Hospital. She also attended the Massachusetts School of Professional Psychology where she received a re-specialization in Clinical Psychology. Her published articles have appeared in Appetite, American Journal of Clinical Nutrition, Pharmacology, Biochemistry & Behavior, Biological Psychiatry, Alcohol, and Drug and Alcohol Dependence and Psych-Oncology. She served three years on a special Grant Review Committee for the National Institute on Drug Abuse. Dr. Orozco has taught courses at Emmanuel College, Boston College and Boston University.
She has worked at various non-profit organizations including the Dana-Farber Cancer Institute, The Wellness Community and the Brookline Community Mental Health Center. She was Clinical Director of Commonwealth Psychology Associates, LLC for over two years before branching off to start her private practice and small business in Needham. She is a sought after corporate speaker on topics related to health, stress management, leadership development, conflict resolution and diversity. She has worked actively in establishing resources for GLBT parenting issues including presenting community seminars and developing support groups. Dr. Orozco ran Family Matters, a bi-weekly column dedicated to issues facing GLBT families in Bay Windows, the largest Gay and Lesbian weekly paper in New England.
Dr. Orozco gives credit to the accomplishments in life to the opportunities offered to her through public education, women having equal access to athletics through Title IX, and through access to quality health care when she was diagnosed with breast cancer ten years ago. She is deeply committed to giving back and now helping to shape a system of state government in which we can all believe.